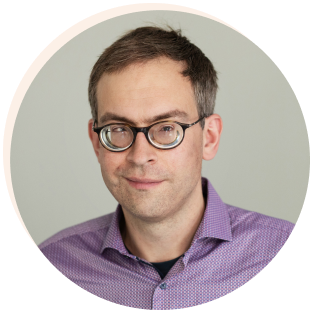 Nicolas Haaf
Member of the Council of Victims and Survivors
It's important to let that poison out
Sexual abuse leaves a mark. For many victims it takes years to come to terms with what they have experienced. But, says Nicolas Haaf, the way there is worth it. A conversation about his experiences as a victim and his relationship to his own masculinity.
About Nicolas Haaf
Nicolas Haaf is a freelancer in Hamburg. He has been a member of the Council of Victims and Survivors since 2020. It is a body for people who have experienced sexualised violence in their childhood and youth. They stand up for the interests of survivors and give a face and a voice to this topic.
When we talk about sexual abuse, we talk about victims and survivors. Which term do you yourself prefer, Mr Haaf?
There are three terms, victim, survivor and thriver. I was a victim, and I was a survivor. But I find the term "thriver" the most apt. It tells you that there is a positive future, a way out.
When did you decide to take the first step and confide in someone and tell them your story?
In my early 20s, I had severe mental health problems. I told my therapist what had been going on in my life during the third or fourth session. I never used the word "abuse" then. It was not part of my vocabulary in connection with what I had experienced. But I had already started dealing with my experiences a little earlier than that. It was when I read an article on incest as an adolescent. That's what got things rolling. I then realised, over the course of my therapy, that I was abused by a woman.
How did you get from there to where you are today?
I did four therapies in my life – conventional talking therapies and two trauma therapies. And in 2008 I had the enormous good fortune to come across a self-help group for male survivors. I met men who had also been abused by women there. Joining this group became a turning point in my life.
What gives you strength today?
I am a trained musician, I have done meditation training and I exercise a lot. Music has always, and still does today, helped me to be in touch with my feelings. Exercising is a great way to release all that tension I have in my body. Also, and this may sound a little strange, I have always had an entrepreneurial mindset. That's what saved me as an adolescent – I was always working on some project or other. I approached people, I took risks. For me, this was always extremely important to escape my feeling of powerlessness. My entrepreneurial activities were and still are a playing field for me, where I can make a difference. I set boundaries. I won't be taken for a fool. I can handle conflict.
It is usually men who are the perpetrators of sexual abuse. Did you encounter any specific resistance in coming to terms with what happened to you for this reason?
Being sexually abused by a woman was extremely damaging to my masculinity. I felt very conflicted for many years. It was really tough for me. It took me a long time to reconcile these two sides.
Being sexually abused by a woman was extremely damaging to my masculinity. I felt very conflicted for many years. It was really tough for me. It took me a long time to reconcile these two sides.
What helped you with this reconciliation?
Realising that it's okay to be vulnerable. That it's okay to be scared sometimes. And that it's okay that I was the one with less power. That I didn't have a chance when I was a child. At the time, I read the book "Victims No Longer" by Mike Lew, an American psychotherapist. He describes this phenomenon in detail. The book opened my eyes to the conflict of masculinity I was struggling with. For me, it was important to realise that your masculinity does not get damaged by this. You have to find your own way to it.
What is the essence of this conflict?
It's about a conflict of roles – the need to be confident and strong, to have everything under control. To be totally self-assured. That was my primary aim for many years. Eventually there came a point when I broke down. When I realised I can't keep this up. It was a process: the realisation that I can also show my other, vulnerable side. And despite that, people didn't see my as an idiot or a wimp. On the contrary: It was more the case that my vulnerability completed me as a man.
What can help boys or young men in particular to take the first step and confide in someone?
We should acknowledge that that's precisely what men can be afraid of. We should make it clear to men and boys who open up that "no matter what you say – I will respect it". In my case, for example, I downplayed my experiences, saying to myself: "It wasn't that bad. I survived it". And then to admitting to yourself: "This really wasn't trivial, it was enormous". This took me a long time.
How did you realise that it was time to talk about the abuse?
Sometimes it takes a depression to bring certain things to light. When you realise you can't go on like this, you have to seek help. It is very important to let that poison out. If you don't do that, this experience can simply make you lonely. You should break through this loneliness, this isolation. In whatever setting – be it therapy, a self-help group or with people you trust.
Where can men find the right help to embark on this path?
It makes sense to undergo trauma therapy to help you on your way, or to contact a specialist counselling centre. Some services will not be available in your area, but you can also get advice over the phone. Advice was not available for men 13 years ago, and so I got in touch with a counselling centre for women. Sometimes you have to think outside the box. You should be prepared for this to be a long process. And you mustn't give up if you come across people who trivialise your experiences.
Have you ever regretted talking about your own experience of abuse?
No, I've never regretted it. I have always taken a very proactive approach. Which is also why I have had all kinds of reactions. This is more difficult for a man. Because sometimes you're not taken seriously. I also confronted the woman who did this to me. I went all the way.
What gives you courage?
We live in a society where the topic is slowly finding its space and the taboo is beginning to lift. That is an enormous gift. There are other countries where no one talks about it. The fact that we live in a society where this is possible gives me courage.
Stories that inspire courage
Give us a call – even if you're unsure
Talk to the advisors of the Sexual Abuse Help Line. Your call is anonymous and free of charge.
Telephone hours:
Mon, Wed, Fri: 9 a.m. to 2 p.m.
Tues, Thurs: 3 p.m. to 8 p.m.
Send us a message
– securely and confidentially
The Sexual Abuse Help Line also offers advice by email. By registering, the advice service remains confidential.