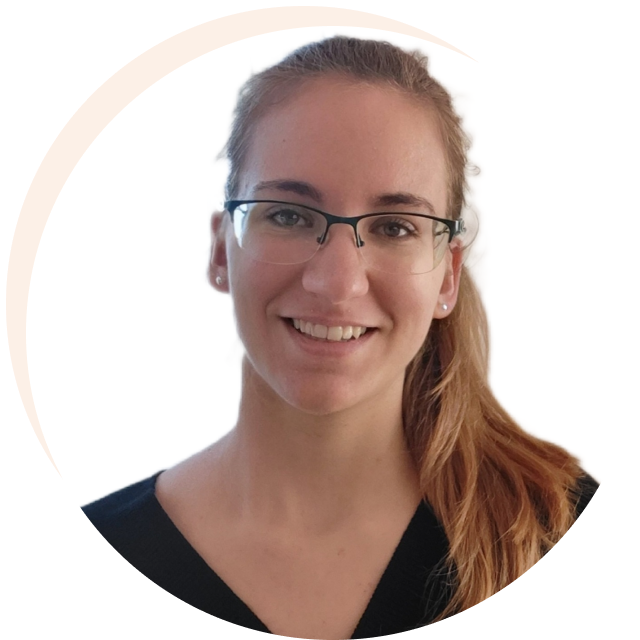 Jasmin Scholl
Survivor
I want to show victims and survivors that they are not small
Sexual violence increasingly also takes place online. Cyber grooming refers to contacting minors with sexual intentions. Jasmin Scholl tells us how she found her way out and what she would like to pass on to other victims and survivors.
About Jasmin Scholl
Jasmin Scholl is 25 years old and has written a book about her experience. She is very committed to this issue, she gives talks and stands up for victims and survivors on social media.
Jasmin, you experienced sexualised violence as a child and describe yourself as a survivor. What was your upbringing like?
I was pushed into child prostitution when I was eleven and didn't find my way out until my early 20s. Whenever I tried to get help, the perpetrators prevented me from doing it. My relationship with my mother was very difficult. For example, if I was five minutes late coming home after school, she would lock the kitchen door and refuse me food. She always told me that I was worthless. Over time, I accepted this feeling and went through life with it. Looking back, I would say that my mother transferred her own story onto me. Life was overwhelming for her. And she wanted to prevent anything from our family leaking out. That's why I always had to stay in my room.
As an adolescent you signed up for several platforms, where you were approached by older men who wanted to meet up with you. How did this come about?
At school I had a friend who always wore the latest clothes. I never even owned a real winter jacket. I was always freezing and was also often hungry and thirsty. I asked my friend how she manages to get these things. She told me that she meets up with men and gets money for it. This made me curious. I thought that I would then also be able to buy something to eat or to wear. I started meeting up with men as well. I was not even aware that they were doing something forbidden. For me it was just normal. My friend did it, and so did I.
You mention cyber grooming. This refers to minors being targeted for sexual acts on the internet. How did you manage to get away from it?
I was sent to a children's home at the age of 15. I was the oldest there, and I learnt what it means to have a bit of freedom. I didn't really know what to do with this freedom at first. It was a formative time: What are rules? What is freedom? I learnt that I don't just have to give, I can also get something. This time helped me to move forward in my development and not to stand still. After that, I moved into my first flat. But I soon had to move because an assault took place. I went on like this for some time.
Who or what helped you?
I met a staff member of the victim protection organisation in a Facebook group. She was an alternative medical practitioner and she understood me. It was through her that I became aware that I was in danger. Because the men were going after me. One situation was in fact life-threatening. So I had to leave the place where I lived and went to Berlin. I was in touch with this woman for two or three years. Through her I realised how much power the perpetrators had over me. At some point I made the decision to get my zest for life back.
You share your story publicly on social media. What do you want to achieve by doing that?
I talk about sexualised violence and cyber grooming because I want to give the issue more visibility. I want to show what can happen and how quickly. I do this mainly for the people who have not managed to get away and whose soul is crushed. I do it to show victims and survivors how important it is to believe in yourself. Even if it sometimes doesn't feel like it, I can say from my own experience: Your own goal is often not that far away. I am halfway through processing my experiences. I am not done yet, but I am on my way there. I want other victims and survivors to see how I find my path so that they can find their own. I want to show them that they are not small. That they are allowed to take up space and show themselves. That the perpetrators have no power over them. Perhaps having me as a role model makes their path easier.
"I want to give sexualised violence and cyber grooming more visibility. I want to show what can happen and how quickly. I do this mainly for the people who have not managed to get away and whose soul is crushed.
What gives you the strength to walk this path?
Victims and survivors give me strength. The many people I have already managed to reach! After publishing a report, I gained more than 1,000 new followers in one week. Many people admire me and respect the fact that I talk about it. They confide in me and tell me their own stories. But I also give myself strength. When I'm not in a very good frame of mind, I ask myself: Do I stay in bed or do I get up and fight another day? My dog Melly helps me too, because I have to be there for him every day. My network of helpers also gives me strength. There are so many people who help and advise me.
What gives you courage?
I think it's important to have a regular "fit of courage". [laughs] You have to have crazy and brave moments. Laughing from the depths of your soul, living and being mindful – I think that's important. I exist and I live in the here and now. We have to take care of ourselves because we are only here once. I don't believe in God, but I believe in life. This is what I say to other victims and survivors too: Never stop believing in yourself and in life.
Stories that inspire courage
Give us a call – even if you're unsure
Talk to the advisors of the Sexual Abuse Help Line. Your call is anonymous and free of charge.
Telephone hours:
Mon, Wed, Fri: 9 a.m. to 2 p.m.
Tues, Thurs: 3 p.m. to 8 p.m.
Send us a message
– securely and confidentially
The Sexual Abuse Help Line also offers advice by email. By registering, the advice service remains confidential.